TalkTalk WiFi Hub (Sagemcom Fast 5364) Review, Test and Tear-down
Introduction:
In 2018 UK based ISP TalkTalk released there newest router for fibre customers to replace the mediocre Huawei and D-Link "super routers" they offered. The new router (WiFi Hub) on the face of it and based on who its manufactured by (Sagemcom) as well as it's specs means the router should be pretty good, and anything could be better than those "super routers" right? For some reason this router doesn't have a massive range of technical specifications on the internet or even what chipset is has etc, something which puzzled me, considering other ISP's (BT) were more open with theirs.

However in a bid to fix that, I have put together this quick review, test and teardown post, to fill in the gaps on the internet, provide a better understanding of the device, some of it's capabilities, and more importantly (well to me at least, what chipset it has). This router is Sagemcom branded router, and is available to all TalkTalk customers for £120 on the TalkTalk online store at the time of writing, or for new customers who sign up to the 78Mbps FTTC or UFO or 150Mbps or 300Mbps G.Fast service.

Sagemcom Fast 5364 (f@st 5364) specifications:
Broadcom BCM63137 1GHz ARM SOC Chipset
ADSL/VDSL2 Modem
3×3 2.4Ghz MU-MIMO A/B/G/N Wireless
4×4 5GHz MU-MIMO A/N/AC Wireless (Wave 2 spec)
AC2400, 2.4GHz Max Speed = 300mbps, 5GHz Max Speed =
7 x Wireless Antenna configuration
4x RJ-45 Gigabit 10/100/1000Mbps Ethernet LAN ports
1 x RJ-45 Gigabit 10/100/1000Mbps Ethernet WAN port
1x RJ-11 DSL Port
WPS (Wireless Protected Setup Button)
Detachable wireless settings card
Front Panel Single LED Status Indicator
Firmware built on heavily customised version of OpenWRT
Dimensions: 26cm width x 16.5cm height
Power Supply: 12V 1.5A
Video Review:
For those who would prefer a short video review of this router and unboxing, I've included the video for this article below.
Written Review:
The Sagemcom Fast 5364 appears on the face of it very similar to TalkTalk other WiFi Hub Huawei model (DG8041W) both in specs and in physical appearance, however it is much different. Upon opening the box, you get the standard set of stuff to get you going, 2x Microfilters, 1x RJ-11 DSL cable, 1x Ethernet cable and a power supply, quick start guide, and the router itself.
The router itself looks much different to any previous router TalkTalk have ever released. It feels more robust, better built, and has a bronze plate encased under the meshed fascia holes, which give it that nicer look rather than dull grey or black. The stand on the router is fairly sturdy and can be detached if necessary by pulling the side of the stand near the casing of the router. If your remove the stand however there is no ability to wall mount this router, so you will need to find some other method of affixing it. There is also a pull out router details card, on the rear top of the router to allow easy joining to the WiFi by other members in your home or for guests.
The rear of the router has the usual set of ports you'd expect to find, from right to left is the: power switch, power input, reset button, WAN port for connecting external modems, gigabit ethernet LAN ports 1-4, DSL broadband port to connect to phone line, and the WPS (wireless protected setup) button.

The router has firmware based on heavily customised version of OpenWRT installed, however is not opensource so this router cannot support third party firmware to be installed, or to be modified, there is however ability to enable SSH on this router for remote management, thought this require a slight modification in browser, which I will go into on another guide. There is an internal UART serial header on the PCB board of the router, however it is locked down so cannot be used for flashing firmware, I will explain in more depth the tear down stage.
Upon plugging the router in, the startup process is fairly quick with a blinking white and orange LED which remains alternating in flashing sequence until an active internet connection is found, where the LED then illuminates solid white. The router is fairly cool in operation and made no noise other than a faint slight click every 10 seconds or so (more in this on the tear down stage for the cause).

Before I detail my testing part of the review, I should note, testing was done in a medium sized detached house with a small garden, with 4 users actively using the intent for streaming, and high bandwidth application etc. The connection was at the time of writing VDSL2 with a capped (banded) speed of 22.39Mbps down, and 4.99MBps up, on one of those problematic ECI fibre cabinets.
I tested this router both via the WAN port with a separate modem in bridge mode, and also via with the in built VDSL modem. I first tested this with the WAN port connection to an external Huawei HG612 Openreach VDSL modem and overall it seems to work ok, the throughput speed is good and multiple WiFi devices work well and can use the net at the same time as you would expect. DNS resolution works ok, and websites load fairly quick. The connection remains stable even after couple months, so expect this router to work well with the WAN port. No initial config was needed it picked this up straight away when testing.

I then tested the router via its own built in VDSL modem to see if there is was and difference and see how it performed. The VDSL sync speeds (screenshot below), were worse than any other router I had previously used, coming in at miserable and woeful 16mbps down and 5mbps up. I tested another Sagemcom WiFi hub that I had new in a box, and that suffered the same low downstream sync speed issue. The attainable sync speeds and other stats are not updated correctly either in the web gui for the router, meaning some of the readings may be inaccurate when checking, and do not auto update like they should (sync rate will accurate however), this seems to be firmware bug.

I have read other complaints of a slower sync speed with this router on TalkTalk's community forums, and decided to investigate the cause, I have detailed this further in the tear down stage as to the cause and how to resolve this.
The WiFi range seems to be fairly good, and is quite stable no dropouts or reduction in signal strength that was noticed, unlike previous TalkTalk Huawei models. The 5GHz band reach the top of the 1st floor, though struggled to be maintained constantly, 2.4GHz worked ok and the range was good, spanning most of the house, and in the garden as well. The WiFi optimisation software can however be a bit of pain, in my experience I would have good signal on my phone on the first floor at medium signal range on 2.4ghz, then soon as switch on another device nearby my phone lose the wifi signal to provide the other device with a strong wifi connection. This feature can be switched off however only by TalkTalk, users have no control over it.
This router being TalkTalk's flagship router is good. However it does include some hidden features which I thought I'd let you know about in terms of security and privacy perspective. For example this router reports details of all devices you have connected to back to TalkTalks servers, host name, mac address, manufacturer, IP address, if it was on WiFi or not, it's signal strength, if it has trouble connecting to the internet or WiFi. It also reports the line sync speed back to TalkTalk and time in this state and if the speed changes. I found out this was occurring after logging into TalkTalk's Service Centre via the TalkTalk myaccount online, there it shows all this detail that is collected it is rather concerning. Considering other information could also be collected that users may not be aware of.

This I would assume would be useful for support purposes however this is not used it the support process if a customer rings up with an issue, other than line sync speed. As ultimately they cannot support users own hardware. This does make you wonder why this data is harvested, this feature cannot be switched off either, meaning you either live with it or ditch the router.
Web Interface:
The Web Gui/web interface, is well designed and looks nice on the face of it, there is not many advanced features, that were included in previous routers that TalkTalk provided, however there is enough settings to let you configure your WiFi settings internet connection etc. To login to the web interface, you will need to navigate to http://192.168.1.1 in a browser of your choice, and enter the username password printed on label behind the WiFi setting pull out card on the rear of the router.
You will then be presented with the screen below once logged in. "click internet settings" to delve further into the web interface. You however can click the other options should wish to configure or look at those.
Clicking "Manage advanced settings" allows you see the status dashboard where you can configure the router.
Tear Down:
Now for the fun bit. Taking apart the Sagemcom WiFi hub is fairly simple, the mesh type fascia detaches simply, just pry gently round the edges with cutting knife or spudger type thing, until the facia detaches, while doing so lift and push the facia upwards towards to the top of the router, this allows it to unlatch underneath. Removing the fascia reveals the bronze spray painted plate that gives the mesh holes the nice bronze appearance. To detach this, undo the four silver hex screws shown in the photo below, and again pry round the edges between the outer casing and the bronze plate using the plastic clips on the outer surround of the router. It will then come apart to reveal the inside circuitry of the router.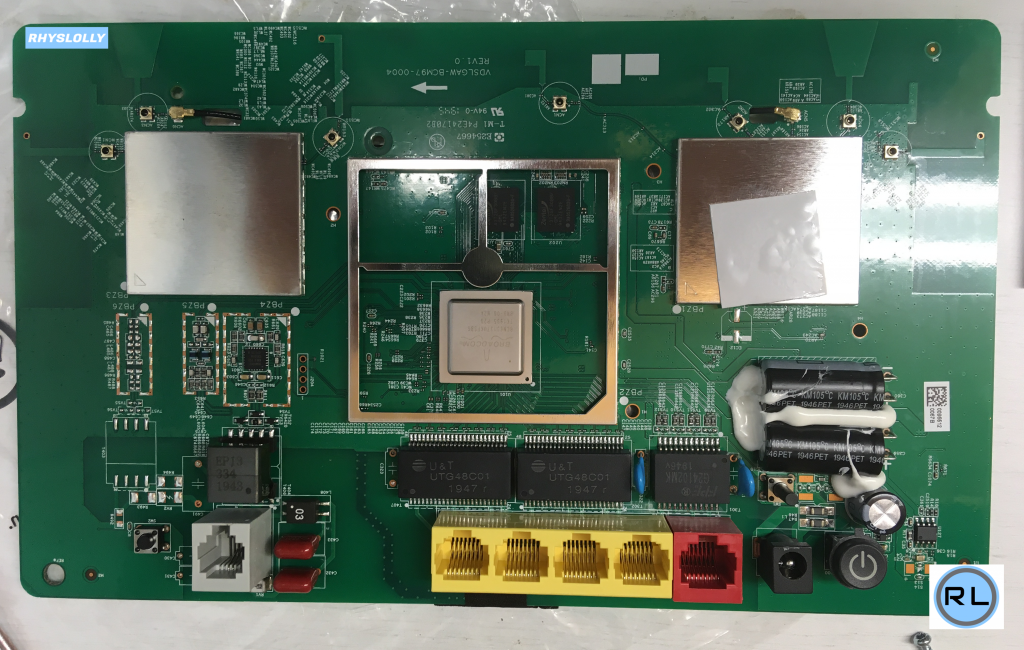 The circuit board is of good quality using a nice thick PCB with good tracks/tracing for circuitry, The front side of PCB is less interesting and doesn't include the operational circuitry, it does however have the status LED so that's something.

The rear is more interesting side, and includes all the ports, chipset/CPU, wireless chipsets and in the bottom left is the DSL modem and poor quality signal switching transformer. I'm not sure why Sagemcom decided to skimp this in building, because the whole board is built to a good quality however they seemed to have knocked it up with a rubbish VDSL transformer, and cheapo choke to complement it (creates that clicking noise) which results in the poor broadband sync speeds. They have however included two noise filtering/reducing/suppression capacitors on the input, which should help with reducing noise interference on the line when in use, this in turn should increase the sync speed by small margin, however in this case due to the shoddy parts used a big decrease was observed.

In a future article I will be showing you how to swap out the poor quality DSL components with good quality components, that will allow this router to get a better sync speed that any normal router would should be able to obtain. Stay tuned for a link to this to appear here soon.

The middle of the board behind the black and silver metal heat shield is the Broadcom BCM63137 1GHz ARM SOC chipset which supports G.Fast, VDSL2, and ADSL standards. Technically this router would support G.Fast in terms on of the chipset and BCM63137 supersedes the BCM6316x MIPS architecture series chipsets so should work well on longer lines like is predecessor, and is stable. However due to the rubbish signal transformer circuitry near the DSL jack only limited to VDSL signals this router wont work with G.Fast, and the sync speed with limited a fair but in my case by around 4-5mbps, but it could be higher on some lines.

Located to the lower left of the CPU circuitry just outside the metal casing, is the serial UART header, which unfortunately is locked down, I have attempted to try a get a response, it does once booting up and I can run a few Broadcom commands, however soon after it boots it no longer is responsive and becomes locked down. Installing custom firmware will be hard if not impossible due to this.

The other two metal shield section on either side are the wireless controllers, which are Broadcom based chips. Located across the top of the PCB on the left side is the 3×3 Antenna array for the 2.4GHz Band and on the right is the 4×4 antenna array for the 5GHz Band.
Verdict
This is good quality router made by a reputable company, it has good features in the web interface, and a good solid Broadcom chipset that should easily work with multiple devices simultaneously, and performs very solidly and can easily be left alone for months on end without issues.

Its only few drawbacks in the poor sync speeds in comparison with other routers due to the rubbish VDSL modem transformer and choke, the ability to collect all device communication information that is connected to the network, and to feed back this and other elements previously explained back to TalkTalk, and the WiFi optimisation control software and other control Talktalk have over this router.

Based on this if you have an old HG635, or HG633 that performs badly, you cant go wrong with this router and will definitely perform better. Alternatively if you have just joined TalkTalk I'd ask if you can get this model as it way outperforms the Huawei (DG8041W) model being offered and is more reliable. Alternatively given the above backdoor monitoring concerns you can purchase your own router which you can setup how you would like.